If you've been wondering if the U.S. is in a recession, or you think we'll be there soon, you're not alone. Pinpointing exactly when a downturn hits is difficult, and according to some measurements, we may already be in a recession. Either way, it looks like the economy may get bumpier in 2023. Fannie Mae, the government mortgage lending body, is predicting a recession next year. And while homebuyers will clearly feel the effects, so will businesses like yours — especially when it comes to providing health benefits to your employees.
Businesses and their workers already face rare levels of inflation. Costs for nearly all goods and services around the world are rising, including medical costs, so keeping your staff and your bottom line healthy will be more difficult than ever. But if you start recession-proofing your health benefits now, you could help your company absorb the coming shocks.
Healthcare Costs Are On the Rise
For many companies, offering quality health benefits is a critical growth strategy. It's enabled many companies to attract and retain top talent while keeping their workforce healthy. But health plan costs can quickly eat into a company's bottom line.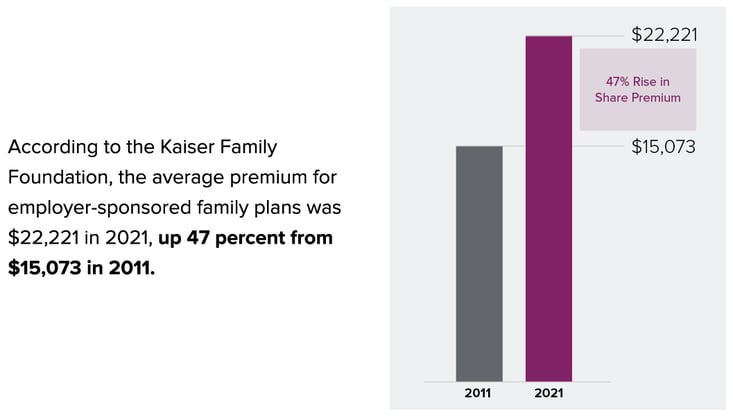 And while employees have seen a painful 45 percent rise in their share of the premium, employers have experienced an even larger 49 percent rise. During the coming recession, spending less on health benefits presents a huge opportunity for companies to reduce costs.
Reasons For Rising Healthcare Costs
Inflation is contributing to higher healthcare premiums, but it's not the whole story. A recent study showed that between 2015 and 2019, per-person spending in employer-sponsored health plans increased 22 percent. Inflation over that period was just 7.9 percent, which means higher prices aren't the only thing driving up healthcare costs. People are also using their benefits more.
COVID-19 is one cause of higher healthcare utilization for many people. Since the pandemic, insurers have contended with unforeseen rises in emergency room visits, hospitalizations, and other high-cost services for COVID-19 patients. While some employers saw fewer medical claims in 2020 when people avoided medical care, employees may be catching up on missed care now.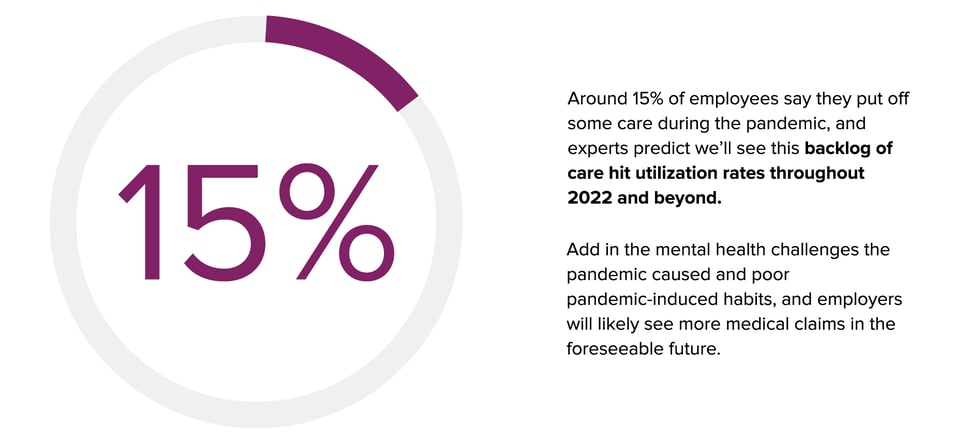 How a Recession Will Impact Companies
Along with the challenges of inflation and rising healthcare costs, businesses have faced an extremely tight labor market. Between 2010 and 2019, unemployment steadily dropped from 10.8 percent to 4.5 percent. After a brief increase at the start of the pandemic, unemployment was down to 3.7 percent in September 2022.
Businesses struggling to find and retain talent have been offering more competitive benefits packages, which now account for nearly a third of compensation packages for non-union jobs. As inflation eats away the buying power of workers' paychecks, many companies have put off planned increases to employee premiums.
While a recession is likely to rebalance both inflation and the unemployment rate in the long run, companies that have committed to expensive benefits packages may struggle with those costs during a downturn. The good news is you can mitigate some of the impacts of the looming recession now while you plan for next year's insurance coverage.
Ways to Lower Your Health Benefit Costs
Companies have several options to lower health insurance costs to increase their resilience during a downturn. We'll explain the pros and cons of three of the most popular options below.
1. Increase employees' share of health insurance costs
Although many companies are hesitant to do so in a tight labor market, asking employees to pay more of their premiums or pay a higher deductible is one way to lower your benefits price tag. It's a simple way to quickly improve your bottom line, but this strategy may be more trouble than it's worth. If you're already struggling to hire and retain the right talent, offering pricier health insurance will likely exacerbate the problem. Many new candidates and existing employees will likely look for (and find) more competitive offers elsewhere.
Employees that stick with you — especially those with families and those living in certain states — will experience other problems.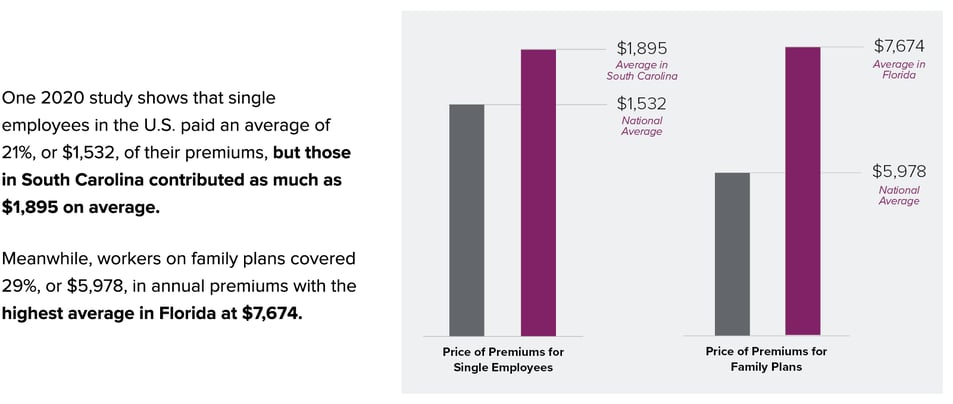 The impact of higher health insurance costs on employee mental health and worker retention rates could increase your overall labor costs, at least in the short term. While many recessions result in a less competitive labor market in the long term, there's no guarantee. As the labor market sorts itself out, you could miss out on great talent and growth opportunities.
2. Switch to a self-funded health plan
It's no secret that relying on an insurance company to fully pay out all claims is often the most expensive way to provide coverage for your staff. With a fully insured plan, your business takes on none of the risk and minimal administrative costs of insuring your staff in exchange for some of the highest employer costs in the industry.
Self-funded plans are just the opposite. Your company takes on the responsibility of paying out all insurance claims directly as employees get care. While a self-funded plan can make costs unpredictable from month to month, many larger companies find their overall costs are lower. These plans require more administrative overhead from your staff, but you can make up for that by tailoring your health offerings to the needs of your specific employees instead of picking from the more generic plans that insurers offer more broadly.
A self-funded plan could be the right choice if you work for an established company with 1,000 or more employees. But most smaller, newer businesses don't have the resources or the cash flow to manage self-funded plans and all those claims risks on their own — especially amid the uncertainty of a recession.
3. Choose a level-funded plan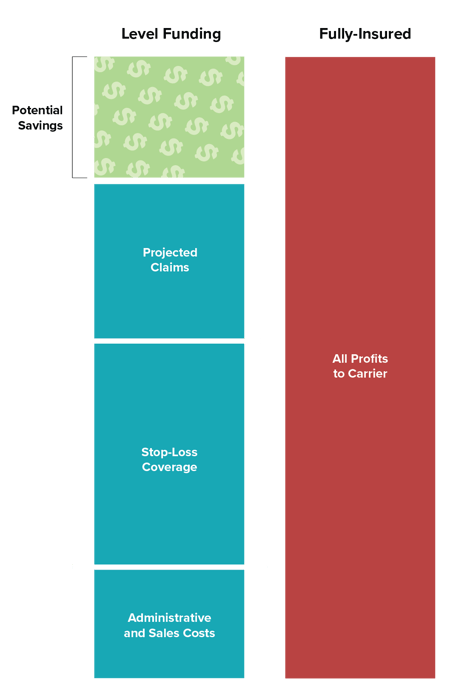 If you don't want to skimp on benefits for your staff or deal with the complexities and risks of a self-funded plan, a level-funded plan could be your best option. Level-funded plans combine the cost-saving benefits of a self-funded program while limiting your overhead costs and claims risk.
Level-funded plans also tend to have more transparent cost structures. You'll be responsible for covering three different expenses: health insurance premiums, administrative costs, and stop-loss coverage. Health insurance premiums are exactly what they sound like: the cost of covering claims for your employees. Administrative costs cover plan maintenance, time spent helping employees enroll, and claims data collection. Stop-loss insurance is the key to smoothing out your claims costs and limiting your risks if you need to pay out catastrophic insurance claims. Essentially, stop-loss coverage is an insurance policy that will pay your worker's claims when your cash flow doesn't allow you to cover the risk yourself. And the best part of a level-funded plan? If your company ends up with a claims deficit at the end of the year (meaning your employees spent less on healthcare than you projected), you'll get a refund.
Level-funded plans are often a great choice for businesses with 100 to 1,000 employees. And in a recession, they can help balance savings and risk for larger and smaller businesses too.
Conclusion
The current economic climate is making it harder than ever for companies to provide competitive health insurance at a price tag that makes sense for the business, and a looming recession threatens to complicate matters further. Skimping on benefits or taking on more claims risk could offer relief — or bog your business down in administrative costs, unnecessary risks, and slow growth. A level-funded health plan can allow your company to offer excellent, high-quality care at a cost you can afford, and it may be the best way for your company to recession-proof your employee health insurance offerings.