Healthcare Highways Health Plans
Self-insured employers are experiencing increasing pressure to maintain budgets while retaining and attracting top talent. Healthcare benefits are a critical factor in this balancing act. We're a value-based care health plan delivering measurable, sustainable healthcare value to employers, members, and providers by re-centering the wellness journey around the primary care physician-to-patient (P2P) relationship.
The P2P relationship is at the center of our health plans, built upon high-value, curated broad, or high-performance networks of physicians empowered to put long-term health outcomes at the forefront of all they do—not procedure quotas and referral targets.
Utilizing this structure our health plan sustainably and consistently lowers the total cost of care while improving member health outcomes and increasing provider-patient engagement long-term. When the following five elements are in alignment, both payers and patients realize positive financial, health, and experiential outcomes:
P2P Model
Embedded care coordination available to all markets
Data transparency & information sharing
Total Cost of Care focus

Employers maintain transparent and timely access to population health data and sustainable, long-term savings.

Employees have a coordinated, proactive team of professionals to guide them along their wellness journey

Providers are empowered and rewarded to deliver efficient and high-quality, deeply engaged care.

Our High-Performance Networks
Traditional networks rarely offer performance-based incentives to physicians. The typical fee-for-service or FFS (What is FFS or fee-for-service? Click here.) model reimburses providers for the volume of services they provide—necessary or not. High-performance networks reward physicians for delivering efficient, outcome-driven care that results in improved patient health outcomes. (What is the difference between narrow and high-performance networks? Click here.) In exchange for a consolidated, high-performance network of quality providers, members and employers pay lower premiums. Members also have lower out-of-pocket costs.
Learn more and see a full list of all of our network offerings.

HCH Plus

Our broad network, HCH Plus, offers a wide selection of quality hospital systems, physician groups, and ancillary providers who offer highly competitive discounts. This network option may be tiered with Healthcare Highways Sync to provide even more choice in affordability and coverage.

HCH Sync


The flagship high-performance network, HCH Sync delivers performance excellence through financial alignment with providers incentivized to increase efficiency in practice and optimum health outcomes, which may mean fewer procedures and a lower total care cost.

HCH Logix

A high-value network that lowers the total cost of care through exceptional, directly negotiated discounts.
Providers
Building a high-performance network begins with high-quality (predominantly independent) providers. Our Chief Medical Officer Creagh Milford DO, MPH FACOI is highly engaged in our process of continuous renewal, confirmation, and re-confirmation of credentialing information for each provider we include in our networks, including board certification. We also evaluate performance history—requiring a higher than average level of positive health outcomes—we incentivize them according to a value-based care model. (What is true value-based care--VBC? Find out.) We free our providers (and your savings) from practicing under the current, standard Fee-for-Service (FFS) model. Learn more about how FFS harms your bottom line and employee health outcomes.
This allows our providers to focus on prevention and intensive management of their patients' wellness journey with the support of our Care Management team. Their efforts are reviewed by their peers and adhere to standardized clinical test and treatment protocols endorsed by national quality organizations, reducing waste and unnecessary, invasive procedures.
Specialists
Healthcare is delivered locally. Our specialists are referred to based on professional knowledge of our providers.
They have demonstrated histories of superior quality results and embrace change in practice patterns to improve patient experience and health outcomes.

Hospital Partners
Exclusive and careful selection of like-minded partners ensures lower cost services, with a focus on quality care. Our partners include, but are not limited to: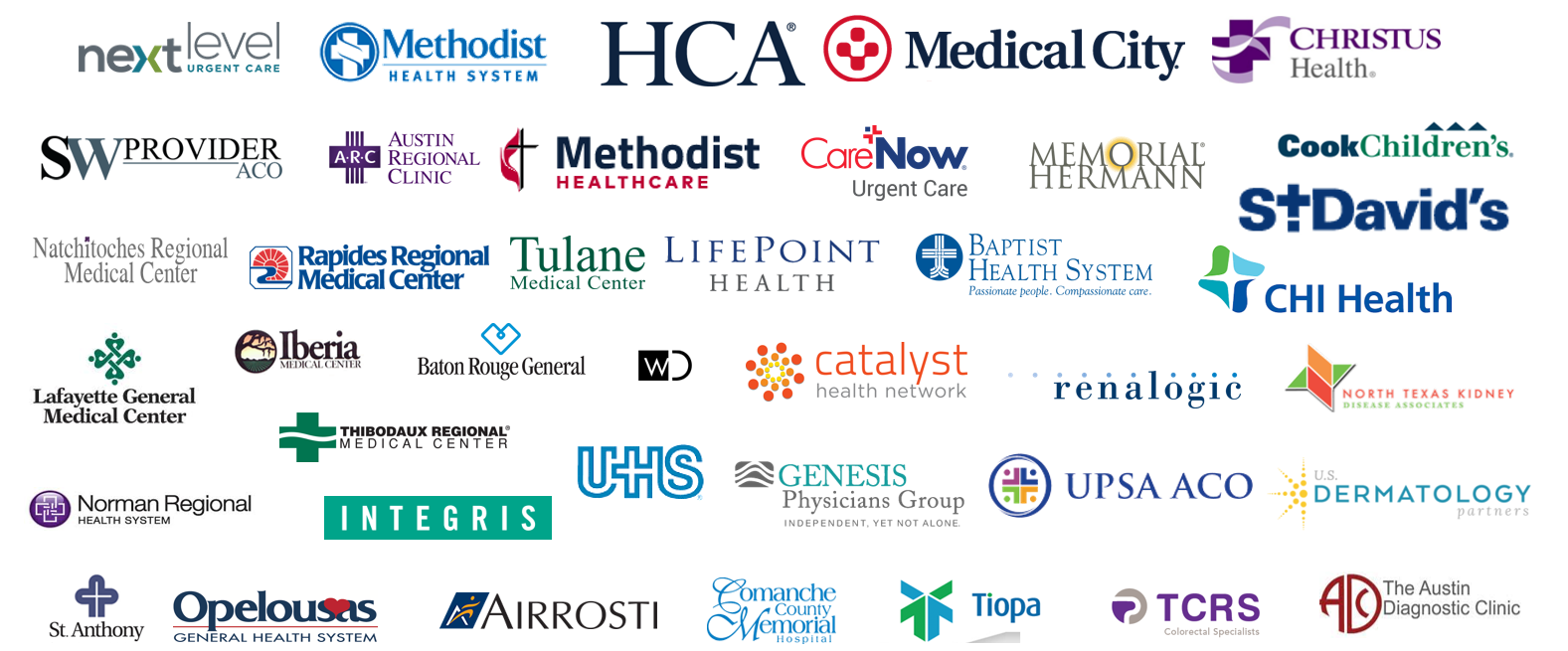 Population Health Management
Our health plan eliminates the financial deterrents to seeking necessary care, while providing the guidance that prevents over-utilization and/or inappropriate, over-priced care through embedded care coordination programs in our plans.
This guidance comes through our care management program: a team of healthcare professionals led by a primary care physician proactively manages your employees' wellness journeys, increasing treatment plan adherence and medication compliance with quality and efficiency of care in mind.
This provides sustainable, long-term cost savings to your company and employees, while improving their health outcomes.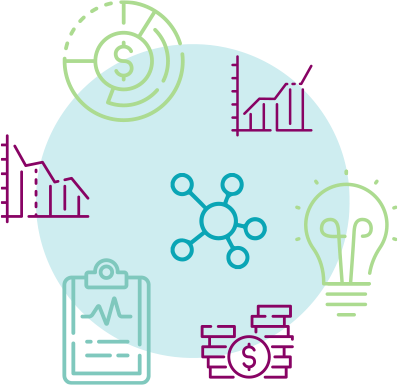 Data Analytics, Reporting and
Predictive Modeling
Traditional networks rarely offer performance-based incentives to physicians. The typical fee-for-service or FFS (What is FFS or fee-for-service? Click here.) model reimburses providers for the volume of services they provide—necessary or not. Our employer clients have access to an powerful tool in reducing the total cost of care overtime: their population health data.
Data is only as good as its accuracy and the ease of access to it. Errors, inconsistencies, limited accessibility, and gaps in data affect your bottom line. Through our collaborative, integrated data reporting processes, we provide transparent, clearly explained, and actionable health plan data in near real-time.
Quarterly health reports and comprehensive data analytics help determine the cost effectiveness of your plan and identify gaps in care and the patterns of the biggest cost drivers, such as future high claimants and excessive use.
Administrative Support
Employers that self-insure its medical plan for their employees often require administrative support. We offer the necessary platforms and expertise to handle the entire adjustment, auditing, and appeals claims process along with underwriting, stop-loss, and premium billing services.
Our dedicated 24/7 call center and employer support team will aid you in the management of your plan. Your members will also be supported directly by a dedicated customer experience advocate and through their secure online member portal where they can:
Review their benefits

Review their claims

Review their deductible and out-of-pocket status

Order new ID cards

Contact Customer Experience

Read and watch tutorials and educational resources
What is a health plan?
Health plans are legal agreements that provide for coverage of designated health services needed by plan members for a fixed, prepaid premium by a specific group of physicians, specialists, and other healthcare service providers to be used proactively to maintain and improve health.
What is the difference between a health plan and insurance?
Unlike health insurance which is not meant to be used often and is a hedge against financial harm (like home and auto insurance); health plans are meant to be actively used to improve and maintain personal health, which helps to avoid costlier, more invasive health interventions. When highly engaged care coordination teams manage the use of proactive, appropriate health care treatment, outcomes improve long-term and costs are sustainably reduced.
Our high-performance networks, population health management program, and data transparency counteract the three largest factors inflating your annual benefit premiums for you and your employees:
Our clients enjoy the long-term fiduciary and health outcome benefits of aligning their health benefits program with data-driven strategies that lower the total cost of care, improve health outcomes, and give leverage back to employers in healthcare package negotiations. Our High-Performance Networks come embedded with our care coordination program, and offer near real-time data access and reporting.
What is Total Cost of Care or TCOC?
Sustainable total cost of care savings. The Total Cost of Care or TCOC is calculated by considering all variables in the care delivery ecosystem which includes: unit cost/discounts, administrative efficiency, out of network solutions, care coordination, excluded high cost providers and specialty programs. Correctly calibrated within a well-designed health plan, TCOC can be lowered year after year.
Focusing on lowering unit costs, more efficient care, and alignment of all parties from consultants to specialists allows for transparency and cost reductions that grow over time—rather than disappearing—which occurs when savings are driven by short-term, one-off discounts. Learn more about how we provide long-term savings.
Tailored Out-of-Network Solutions
Our out-of-network strategies are designed and implemented around access and cost management to provide flexibility and choice in national wrap, reference-based pricing, and exclusive provider organization solutions to provide efficient, affordable access to value-based healthcare, care coordination team support, and claims administration at home and throughout the U.S.