#breakawaybroker
Never has there been a better opportunity for consultants and brokers to redefine and maximize their value in the health insurance profession. Employers are increasingly aware that value-based benefits require more than a shift in marketing and one-shot discounts. Bonuses and incentives bind brokers and consultants to unvetted broad networks and short-lived, discount-driven savings. Provider discounts only work if you start with a common price, and hospital rates can vary 300% or more on medical billing codes.
Clients are demanding transparency, flexibility, and measurable ROI on their healthcare dollars. In a performance-based arrangement, brokers and consultants can build creative compensation packages that allow for variable compensation to be earned based on achieving specific metrics and maintaining pre-defined standards.

This re-alignment of client-consultant interests could be the single most important change in the health plan delivery space.
- Chris Wilson, Healthcare Highways SVP of Business Development

Lead the industry.
Offer your clients a variety of integrated, flexible health plan and network solutions with the data access and transparency needed to gain cost-savings insights and dedicated customer service and efficient reimbursement models. Stand head and shoulders above your competition by offering your clients health benefit options that:
Control and lower Total Cost of Care sustainably, year after year

Increase communication, efficiency, and improve member health outcomes

Offer flexibility through direct replacement or side-by-side solutions

Provide a single point of contact for communication

Provide transparent, near real-time data access and reporting

Provide ongoing support: implementation guidance and planning, portals, tutorials, and guidebooks

Carefully selected networks deliver what employers need to quell inefficient care and rising costs, while increasing improved patient outcomes, strengthening the patient/PCP relationship, and empowering primary care physicians.
- Brian Wallach, Healthcare Highways SVP of Business Development


Our Networks
Traditional networks rarely offer performance-based incentives to physicians. The typical fee-for-service (FFS) model reimburses providers for the number of services they provide. High-performance networks reward physicians for delivering efficient, outcome-driven care that results in improved patient health outcomes. All of Healthcare Highways' proprietary networks operate with national networks to create a nationwide solution for employers and members.
See a full list of all of our network offerings

HCH Plus

Our broad network, HCH Plus, offers a wide selection of quality hospital systems, physician groups, and ancillary providers who offer highly competitive discounts. This network option may be tiered with Healthcare Highways Sync to provide even more choice in affordability and coverage.

HCH Sync


The flagship high-performance network, HCH Sync delivers performance excellence through financial alignment with providers incentivized to increase efficiency in practice and optimum health outcomes, which may mean fewer procedures and a lower total care cost.

HCH Logix

A high-value network that lowers the total cost of care through exceptional, directly negotiated discounts.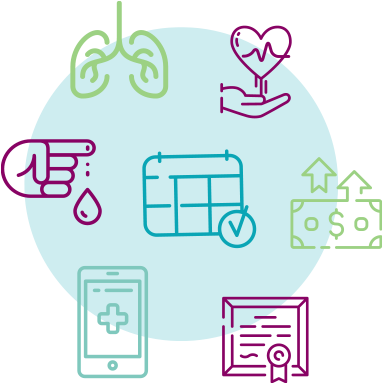 Our Health Plans Are Built With The Following.
Adjudication
Case Management
Centers of Excellence
Claims Processing
Diabetes Management
Plan Administration
Precertification
Renal Solutions
Stop-loss Services
Telemedicine
Utilization Management
Data Analyitics, Reporting, and Predicitve Modeling
Data is only as good as its accuracy, timeliness, and ease of access. Errors, inconsistencies, limited accessibility, and gaps in data affect your bottom line. Through our collaborative, integrated data reporting processes, we provide transparent, clearly explained, and actionable health plan data in near real-time.
Care Continuity and Support Program
Our Care Continuity and Support program approves in-network benefits to be delivered by an out-of-network provider for a limited time for qualifying members. This ensures members approved for the program undergoing certain active medical treatments can transition safely to our provider network. We collaborate with the member's current team of healthcare providers, our care coordination teams, and our provider networks during this process
Care Coordination
Healthcare Highways uses care coordination to target those top five percent of members who drive 80 percent of healthcare costs. Care coordinators use stratified data to identify risk categories within the member population, and are empowered to reach members where they are. Member engagement can be telephonic, or face-to-face in an onsite setting. In focusing on each member and keeping healthcare personal, care coordinators can positively impact the health of some of our neediest and most at risk members. In this way, the total cost of care can be sustainably controlled over time.