You understand the financial perils of the Fee-For-Service (FFS) model, you know pharmacists are qualified to aid employees along their healthcare journey (though underutilized), and you regularly share articles about the power of value-based care to lower healthcare costs for you and your employees while improving their health outcomes over time on LinkedIn. (Catch up on these concepts and more, here.) While each of these is a critical part of a benefits plan that gives financial control back to your company, inappropriate healthcare must be addressed for long-term health improvements for employees and maximum savings for employers.

"Paying for inappropriate care makes it difficult to determine if you are paying the right price for your health plan. You may have a health plan that is paying reasonable unit costs for procedures and you have good outcomes, but the presence of inappropriate care skews the total cost of care so that the overall performance is unsatisfactory."

Marc Pinney Chief Operations Officer, Healthcare Highways
Our Chief Medical Officer, Creagh Milford DO, MPH FACOI describes appropriate care this way:
"Care that is (generally) delivered at the right time, the right place, and by the right provider for the appropriate patient condition."
A CASE STUDY: WALMART & INAPPROPRIATE HEALTHCARE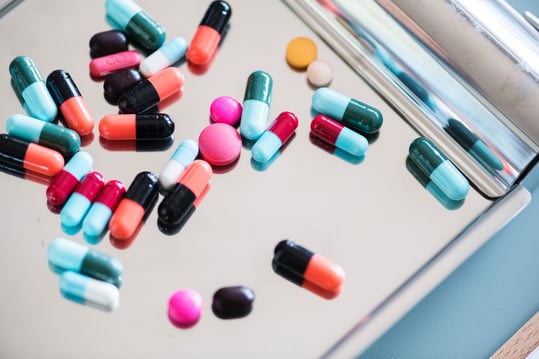 As noted (30 years ago!) by Walmart's founder, Sam Walton "...Healthcare was skinnin' us [Walmart] alive."[i] Walmart's Centers of Excellence (COE) Program launched in 2013 to bring healthcare cost savings for the corporate giant and the 1.1 million employees and their dependents on its medical plan by eliminating unnecessary and inappropriate treatment, and when needed provided above average care[ii].
The COE program partners Walmart employees with hospitals, specialists, and providers that have demonstrated high quality care and a practice of carefully considering which patients require the care they provide (or an alternative) for specific needs like spine and joint replacements or weight-loss surgeries.[iii] The results of the value-based care-oriented program's efforts to reduce overutilization for employees and the company speak for themselves:[iv]
Some employees learned cancer diagnoses given by local providers were based on biopsies never completed. After a re-assessment, tests were given as appropriate.
Over ten percent of employees told by providers in other organizations they have cancer learned that they didn't—sparing them costly and painful cancer treatment.
Fifty-four percent of Walmart employees seen at COE learned the spine surgery they were told they needed by a local provider could be avoided completely and/or were given an effective alternative whenever possible.
While the cost for care was higher for Walmart at participating centers, the dramatically lower readmission rates, earlier discharge and subsequent return to work (2.6 times sooner) and avoidance of wide-spread over-treatment and faulty diagnoses[v] paid for itself and still provided deep savings for the company.[vi] (If employees wish to go elsewhere for care, they cover half the expense.)[vii]
WHAT NOW? ASK THE RIGHT QUESTIONS
Not every company has the bargaining power of a marketplace giant like Walmart. However, the right set of questions can guide any company to a better health benefits package solution for their employees, investors, and profit margins. Consider the following three questions:
Is your evaluation of your health plan and health plan options based on the total cost of care (or

does it rely on discount comparisons alone

)?
Our COO, Marc Pinney explains in Part 3 of his Illusion of Choice In Healthcare Coverage Negotiations series why lowering the total cost of care brings more true savings then discounts alone: "A dollar saved by a discount has differential charges attached for OON [out-of-network] services. Percentages of savings are charged for OON services, which creates profit for major insurance carriers. If an employer saves $500 on a $1,000 OON service—whether it was necessary or not—30% of that (or whatever percentage negotiated) typically goes to the carrier." This brings us back to the subject of utilization (how often healthcare services are used by employees):
"Utilization is significant: It's better to not pay any part of an unnecessary procedure, however deep the discount. A 50% discount on a $1,000 procedure is good, but employers save $1,000 dollars rather than $500 by not paying for an unnecessary procedure."
COO, Marc Pinney
In other words, inappropriate care drives up utilization rates which will eliminate savings long-term, regardless of depth of discount or unit cost:
"Employers can manage unit cost or utilization, or they can manage unit cost and utilization.
As both must be managed to lower TCOC, it's critical to not assume lowering one, lowers the other. That's the equivalent of squeezing a balloon to make it smaller, which instead simply shifts the air inside it without reducing its volume. Air must be removed, otherwise the balloon's volume remains the same, in a slightly different shape," COO, Marc Pinney.
Are the

performance guarantees

based on the total cost of care (which considers both discounts and the appropriateness of care)?
In our post Fee-For-Service vs Capitation, we shared: "Instead of financially incentivizing volume (as the FFS model does) the VBC-model incentivizes practice efficiency, cost control, and patient improvement. (Read more.)" For a health plan to incentivize appropriate care, financial incentives must reward care that directly (and efficiently) improves health outcomes, this leads to a reduction in unnecessary tests, treatments, or more expensive interventions instead of similarly effective, less costly (and physically invasive options).
In high-engagement, patient-centered primary care experiences, employees don't overutilize services in an attempt to self-manage their wellness journey or as an acute response to a health crisis that could have been mitigated or eliminated with more proactive primary care treatment.
Is the company's health plan primarily composed of

value-based or capitated provider contracts

that guard against inappropriate care by shifting the financial risk from the employer to the providers?
"Capitation provides financial alignment [and] goes a step further--shifting financial risk for services from the plan sponsor to the provider by compensating providers a fixed amount for the care of each member. Done well, this gives the providers the ability and motivation to provide quality, cost-efficient care which positively impacts both the cost of care and the outcomes for members,"

Marc Pinney, Chief Operating Officer, Healthcare Highways
Capitation is a type of value-based care model. Healthcare providers are paid a prospective amount per member per month (PMPM), or a "cap" to provider care. Providers keep any net savings below the cap/PMPM amount, while adhering to or surpassing defined quality and efficiency standards. (Learn everything you need to know about capitation and how it compares to the Fee-for-Service model here.) Without contractually-binding arrangements that shift risk and incentivize based on measurable care and efficiency metrics, accurately calculating the ROI of a health plan is nearly impossible. Measuring ROI also requires easily accessible data.
Medical claims and pharmacy data sync at different times, making it extremely difficult for benefits managers to gain visibility into employee health populations, evaluate utilization rates, and assess long-term health improvement (or lack thereof). Large, national insurance carriers typically provide data approximately 45-60 days after an incident, unlike smaller, agile health plans that can aggregate both sets of data in near real time, increase physician success, improve employee health outcomes, and savings.
"The bottom line is that inappropriate healthcare drains a company's profitability. The company is paying for something and getting nothing productive in return."

COO Marc Pinney, Healthcare Highways
Enjoy a return on your investment into your greatest asset: your employees. Learn five steps to maximize the plan you have now here, and how to assess the ROI of a benefits package, here.
Take back control and learn more about the healthcare industry by downloading our free e-book:
REFERENCES
[i] https://www.cnbc.com/2019/03/14/walmart-sends-employees-to-top-hospitals-out-of-state-for-treatment.html
[ii] https://www.beckershospitalreview.com/strategy/walmart-has-no-shelf-space-for-hospitals-shoddy-healthcare.html
[iii] https://www.beckershospitalreview.com/strategy/walmart-has-no-shelf-space-for-hospitals-shoddy-healthcare.html
[iv] https://www.beckershospitalreview.com/strategy/walmart-has-no-shelf-space-for-hospitals-shoddy-healthcare.html
[v] https://www.houstonchronicle.com/business/medical/article/Walmart-steps-up-and-into-the-health-care-fray-12616617.php
[vi] https://www.beckersspine.com/spine/item/45062-how-well-is-walmart-s-spine-center-of-excellence-program-working-5-takeaways.html [vii] https://www.beckershospitalreview.com/patient-flow/walmart-sees-benefit-of-flying-employees-to-top-hospitals-for-care.htm
---